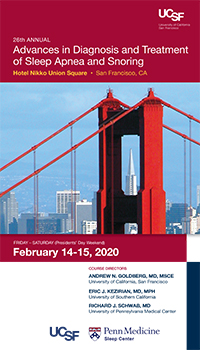 26th Annual Advances in Diagnosis and Treatment of Sleep Apnea and Snoring
Hotel Nikko Union Square • San Francisco, CA
Course# MOT20003 
February 14 - 15, 2020
Course Directors
Andrew Goldberg, MD, MSCE
Professor and Vice Chair,
Department of Otolaryngology – Head and Neck Surgery
Roger Boles, MD Endowed Chair in Otolaryngology Education
Director of Rhinology & Sinus Surgery
University of California, San Francisco
San Francisco, CA
Eric Kezirian, MD, MPH
Professor, Department of Otolaryngology–
Head & Neck Surgery
Keck School of Medicine of the
University of Southern California
Los Angeles, CA
Richard Schwab, MD
Professor, Department of Medicine
Medical Director, Penn Sleep Center
Perelman School of Medicine at
the University of Pennsylvania
Philadelphia, PA
Course Highlights
Faculty includes international leaders in Sleep Medicine and Sleep Surgery
New developments in Treatment of Sleep Apnea and Snoring
• Home and In-hospital Sleep Studies • Hypoglossal Nerve Stimulation • Novel Surgical Techniques • Transoral Robotic Surgery (TORS) • CPAP Tracking Systems • AutoPAP • Obesity Treatments - Diet, Medication, and Bariatric Surgery • Oral Appliance Therapy • Driving and OSA • Upper Airway Evaluation • Drug-Induced Sleep Endoscopy (DISE) • Complementary and Alternative Medicine • OSA in the Elderly • Evaluation of Sleepiness and Narcolepsy • Insomnia and Periodic Limb Movements • Pediatric OSA • Obesity-Hypoventilation Syndrome • The Future of Sleep Medicine
Exhibits Showcasing the latest Technology, Appliances, and Systems
Lectures, Panel Discussions, Keynotes, Pro-Con Debates, Breakout Sessions, and Lightning Rounds
Red and White Party
• February 14th wine Tasting reception featuring California Wines and Cuisine (Guests welcome)
Overview
This course has been coordinated through the University of California, San Francisco Department of Otolaryngology-Head and Neck Surgery and the Penn Center for Sleep Disorders at the University of Pennsylvania. The program is designed to provide a comprehensive review and update on recent advances in sleep apnea and snoring. New approaches and controversies in the management of patients with sleep disordered breathing will be highlighted. Leaders in the field from Pulmonary and Critical Care Medicine, Otolaryngology – Head and Neck Surgery, Dentistry, Oral and Maxillofacial Surgery, Pediatrics, Bariatric Surgery, Neurology and Obesity Research will share their medical and surgical expertise in didactic sessions, case presentations and workshops with the intent to close practice gaps in physician knowledge and competence for diagnosing and managing sleep disordered breathing and complications resulting thereof. Patients with sleep disordered breathing are highly prevalent in every physician's practice, and complications related to the disease can manifest in a number of ways to the detriment of patient health and well-being. There will be ample opportunity for interaction with participating faculty. An electronic course syllabus, complete with program outline and up-to-date references, will be provided to each participant. Please bring your laptop or tablet if you would like to view the syllabus during the didactic sessions.
 
TARGET AUDIENCE
This continuing medical education activity is intended for the physician in Sleep Medicine, Otolaryngology-Head and Neck Surgery, Pulmonary Medicine, Oral and Maxillofacial Surgery, Family Practice, Internal Medicine, Pediatrics, Cardiology, Neurology, Psychiatry, Anesthesia, and Geriatrics. Dentists, sleep respiratory therapy technologists, nurses, and other healthcare professionals are also invited to attend this program.
Learning Objectives
Upon completion of this course, participants will be able to:
Apply new developments in the pathogenesis, diagnosis, and management of patients with sleep disorders and sleep disordered breathing;
Assess new, alternative, and established medical and surgical treatments for sleep apnea and snoring in adults and children;
Evaluate the advantages and disadvantages of home versus in-laboratory sleep testing;
Assess the medical and social consequences of sleep apnea and snoring;
Assess future developments in medical technology and how they will impact their practice;
Improve treatment selection for sleep apnea and snoring using upper airway imaging;
Provide new information to patients regarding the association between obesity and obstructive sleep apnea and the outcomes of medical and surgical treatment of obesity.